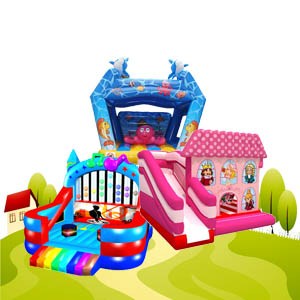 Do you have a holiday entertainment plan for you and your kids?
Do you have a holiday entertainment plan for your kids? For many families with children, summer holidays are a big deal. Children will soon have a summer vacation. If parents do not want to see them playing games at home all day, it is time for them to develop a good plan to bring them out of their homes for fun and exercise. We all know that the water park is a good idea, but you can't go to the water park every day. This is not very practical. The best situation is like this, children can play and have fun with friends in the backyard. You may be wondering if there is a safe and economical way to do this.
How about buy a bounce house?
Inflatable bounce house is one of the most popular children's birthday parties in the world. Children of all ages love to jump in and out of the small bounce house. They can play for hours. Trust me. This inflatable game not only makes children happy, but also encourages interesting physical exercises. If you want to rent a bounce house every day during the summer vacation, it will be more expensive than buy it directly. YoYo Inflatable is a trustworthy Chinese bounce house manufacturer. Long-distance transportation takes time, so now is a good time for you to order a commercial-grade bounce house at a reasonable price.
Not only bounce house, water slide, obstacle course, you have more choices than you can imagine!
Your pleasure is limited by your attempts! We have a variety of sizes inflatable games for your backyard, no matter how big it is. Children can jump around, climb a small slide, or play some competitive games with obstacle courses and basketball stands. Set up such a big toy in your backyard, you don't have to worry about children's lack of healthy and safe entertainment in summer vacation!
Looking for more exciting inflatable games? How about a giant inflatable slide? Combine long slides or your swimming pool to create a cool water world for all your family members. If you don't have a pool, then you can use our diverse inflatable obstacle courses and interactive games to create a sports-themed inflatable world. You can set up a long inflatable obstacle and an inflatable rock climbing wall. Your children and their friends can challenge interesting activities every day during the summer vacation.
So let's join this summer! First buy first get.
Keeping your children entertained and active has never been easier! Contact YoYo Inflatable now! Whether you want to plan a wonderful party or business event this summer, or want to create some fun for your children, we provide you with exciting and affordable inflatable product solutions.